Vitamin K Brightening Eye Serum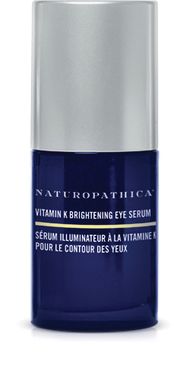 An illuminating serum that helps diminish the appearance of dark circles and fine lines. Combines corrective Vitamin K with light-refracting Mica and Silica.

VITAMIN K: This is used in skin care to reduce skin discolorations.
CAPE CHAMOMILE OIL: Found in the mountain areas of South Africa, this oil is known for its striking blue color due to its high azulene content. It possesses anti-inflammatory and soothing properties that can help with skin conditions such as eczema or other conditions that result from inflammation.
MICA & SILICA: These act as cosmetic concealers by refracting light to even skin tone and leave a flawless finish.