Vitamin C Revitalizing Lotion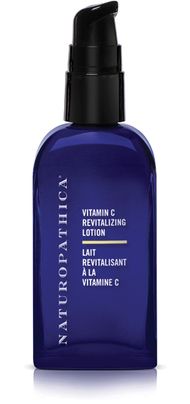 An ultra-light daily moisturizer that helps prevent the visible signs of aging and improve elasticity by blending Vitamins A, C and E with Kudzu Extract. Rose and Orange Oils add an uplifting scent.
SUPEROXIDE DISMUTASE (SOD): A powerful plant-derived enzymatic antioxidant known for its ability to neutralize the highly reactive superoxide radical and slow down the signs of aging.
VITAMINS A, C & E: This blend of potent antioxidants helps neutralize free radicals and protect skin from environmental assault.
LIPOSOME DELIVERY SYSTEM: This allows for deep penetration into the skin to get visible results.
KUDZU EXTRACT: A plant renowned for its beauty and versatility, this has been used in traditional Asian medicine for centuries. Symbiosomes (part of the root system) are rich in proteins and Isoflavones. This extract guards against the breakdown of collagen and elastin and helps maintain skin youthfulness.