Moss Blemish Treatment Mask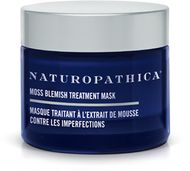 A purifying mask and spot treatment that combines pore-refining Moss Extract with oil-absorbing Kaolin and Bentonite to leave skin looking healthy and clear.

KAOLIN & BENTONITE CLAY: These clays help absorb impurities and excess oil and reduce shine.
SULFUR: This biocide helps eliminate comedones.
MOSS EXTRACT: This ingredient helps clean infected pores and reduce redness.
CALENDULA: Traditionally known as a wound healing herb, this is commonly used for dry, aggravated skin.