Calendula Essential Hydrating Cream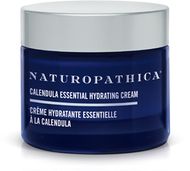 A nourishing, deeply moisturizing cream that contains anti-inflammatory Calendula Extract to soothe dry, sensitive skin and conditioning Borage Seed Oil to help soften the skin.

CALENDULA: This herb belongs to the same family as Arnica and is approved in Germany and other European countries for topical use on slow-to-heal wounds, mild burns and dry skin.
TREHALOSE: This naturally occurring saccharide is present in a wide variety of plant and animal life, enabling survival in the harshest climate conditions. It helps protect the skin's fibroblast from dehydration by replacing water in the tissue, which helps retain the natural structure of the skin.
XYLITYLGLUCOSIDE, ANHYDOXYLITOL and XYLITOL (XAX): A vegetable-based, sugar-derived complex that helps moisturize and restructure while improving overall skin barrier function.
BORAGE SEED OIL: A rich source of gamma-linolenic acid, this oil increases lipid protection and is known for its soothing, anti-inflammatory and skin conditioning properties.