Argan & Retinol Wrinkle Repair Night Cream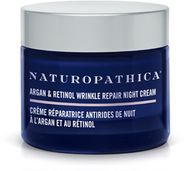 A moisture-rich, renewing night cream that helps visibly reduce the appearance of lines and wrinkles. This powerful combination of Argan Plant Stem Cells, Matrixyl® synthe' 6® Peptide and a unique Tri-Retinol blend tightens, tones and renews the skin, reducing the visible signs of aging without irritation.

ARGAN PLANT STEM CELLS: These are the first plant stem cells with proven effectiveness for deep-seated cell protection and rejuvenation. Clinical results confirm Argan Stem Cells reduce wrinkles by 26% while tightening, toning and improving skin density.
MATRIXYL® SYNTHE'6®: This offers all of the wrinkle-smoothing effects of Matrixyl® Peptide without harsh irritants like butylene glycol. This powerful peptide boosts 6 skin-rebuilding constituents like collagen, laminin and fibronectin to smooth lines and wrinkles, lift, and plump – just like a facelift.
TRI-RETINOL BLEND: This offers greater age-reversing efficacy than Retinol or Retinoic Acid, without irritation. This innovative, synergistic blend combines 3 clinically proven actives shown to reverse skin aging through cellular repair, regeneration and collagen stimulation. Reveals smoother, firmer and younger looking skin.
Retinol warning: If mild irritation occurs, reduce usage frequency until skin adjusts. Use daily UV protection while using this product and avoid excessive sun exposure.