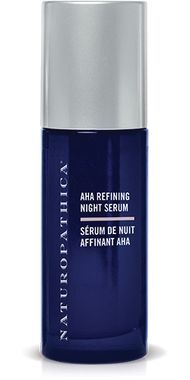 Essential for overnight cell renewal and smoother-looking skin. Exfoliating Glycolic Acid helps reveal younger-looking skin while soothing Aloe Vera calms and reduces redness.

GLYCOLIC ACID: This helps improve skin texture and diminish the appearance of wrinkles and hyperpigmentation.
BILBERRY, SUGAR CANE, SUGAR MAPLE, ORANGE & LEMON: This concentrated blend of 5 botanical extracts contain several naturally occurring AHAs, including Citric, Glycolic, Malic and Tartaric acids, known to promote younger, more radiant-looking skin by increasing cellular renewal.
ALOE VERA: This helps to cool and soothe the skin.